Meet Kine Haugen, Founder of Stories By Kine!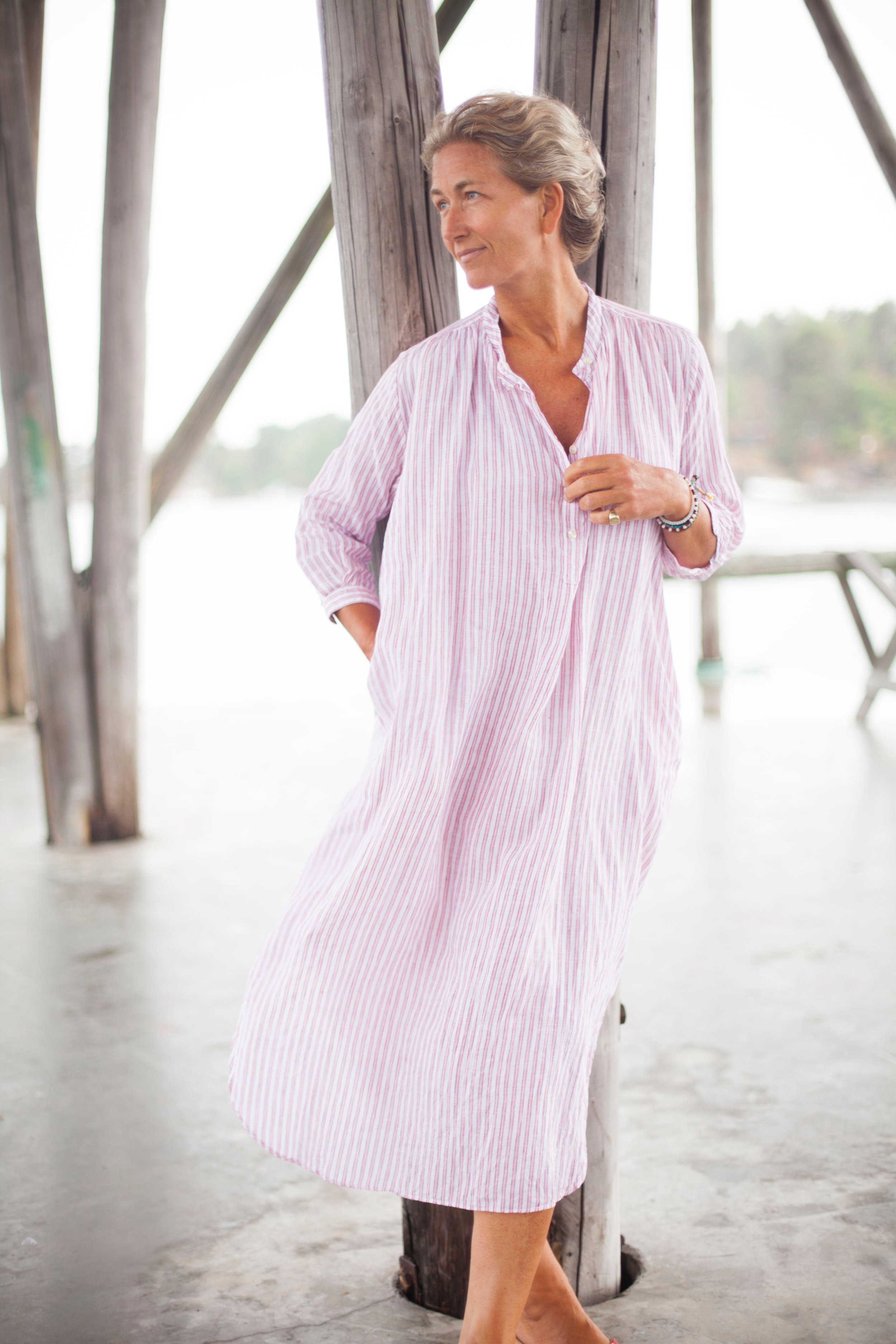 Kine Haugen is the woman behind Stories By Kine, an elegant, Italian-inspired, timeless store located at Frogner in Oslo. Stories By Kine is her result of being someone not easily pleased. She says herself that she's picky about the things she decides to spend money on. They need to meet certain expectations, both with regards to the right cut and to durability. When she finds something she loves, she'll want to wear it over and over again. This reflects every piece in her store. Below, she'll share how it all started, her love for Italy and her personal style!
What are you up to these days?
Right now one the one hand we're in the middle of presenting our SS20 collection to our retailers, while on the other hand I am following up on production of all the pieces planned for this coming Fall, while balancing social media advertising and doing research for my #saturdayshortstories on my blog and working on styles for SS21 and not to forget planning accessories and where to find them for next summer.
Tell us more about why you launched your own store, Stories By Kine!
One thing lead to the other when I opened my pop up shop in August 2015. Only meant to last for three months, then renewed for another three and before I knew it, I was running a very small but very rewarding little clothing shop. The first space became too small and the hunt for a new location began. July 2016 was spent painting and decorating our current location in Eckersbergsgate 35, Frogner. Even though I never envisioned myself running a shop, I don't really want to change my current situation with anything else. For the moment.. Why did you decide to produce all of you clothes in Italy?
Simply because my contacts and connections are in Italy, and because at the time when I decided to take the giant leap and start making my own clothes, I wanted to spend as much time as possible in Italy. In hindsight I am very happy and proud about keeping the distance from production to consumer as short as possible.
You talk about "dimmed elegance", tell us more what this is in your eyes!
Dimmed, or understated elegance is something Italians know by heart. And something I admire them for, and have made it my quest to introduce to the Norwegian women. It´s about dressing in a way that is comfortable and basic, with a casual mix of textures and colors. I believe when a woman feels good, she looks good. My fashion is all about feeling good. The rest is simply a bonus.
What's important to you when designing new pieces for your store?
The most important thing besides high quality fabrics and good cuts, is that my designs need to reach out to a very broad spectre of bodies. We do inclusive fashion and make efforts to develop clothes fit for a very small, skinny and short woman just as we want to dress the tall, large and generously build bodies. For everyone in between finding good pieces is normally not that difficult. What're your personal favourites from your store?
Where do you see Stories By Kine in 10 years?
We will look more or less the same, probably in the same space in Eckersbergsgate 35 as today, with a limited line of good basics made in Italy, but we will have been expanded online and outside of Scandinavia. It is not about reinventing our style or coming up with something new twice a year. Stories by Kine is about lifestyle and choices and respecting our customers wish to have a lasting access to good pieces to fall in love with.
Talking fashion
How would you describe your style?
Well behaved, understated, Italian with a Nordic twist, versatile and multifunctional.
What are the key-pieces you need to have in your wardrobe?
The white shirt all year round! A good cashmere sweater or two during fall/winter and a few god dresses during spring/summer.
What's your favourite pair of jeans and where are they from?
My absolute favorite pair of jeans have my own brand printed on the inside, launching this August! It has taken me almost two years to develop the right formula.. Everything is more difficult being a small business as most suppliers ask a minimum of several hundres meters of fabric. I am not there and don't want to be there. I love being small.
When in doubt - what to you wear?
Jeans and a white shirt…or maybe a pair of 70´s style corduroys, from my own collection of course.
Can you share with us your most-loved accessory?
A stone necklace made by Rozina, a refugee girl from Eritrea who has worked for me for three years now. I wear it to all kinds of occasions.
Talking beauty
In your opinion, what's true beauty?
I believe beauty comes from happiness. From feeling good.
How do you practice self-love?
By setting goals and achieve them. Or just lay in bed without getting up in the morning (never happens…)
Can you share the secret to your glowing and healthy skin?
Not using any creams at all. But I cleanse religiously using products I love and have loved for 20ish years. I believe my body is self-sufficient and will adjust hydration balance when needed. During Summer my beauty routine is about sun and salt water.
What's in your make up bag?
I actually don't have one as I don't use make up! I keep a Lancôme Nutrix lipstick (neutral) in my pocket wherever I go, at all times.
Talking culture
When traveling to Italy where do you go?
If for work I always go to Florence as my factories are all spread out within a two hours drive from there. For vacation, I go to Maremma and Monteargentario, or Puglia.
What book do you read at the moment?
«What Alice forgot» by Liane Moriarty.
Do you have any special summer plans?
Summer is spent at my little summer house outside Oslo. No tickets to book, no flights to miss, no luggage to drag around. Just pure bliss and slow motion.
What's your go-to places in Oslo?
Being close to a workaholic I rarely go out, but on the occasions I go to Arno Ristorante in Fredensborgveien in Oslo. It is the only place I feel in Italy, in Oslo.
For more inspiration, follow Stories By Kine on Instagram here and check out its online store here!
All photos are taken by Heidi Kierulf Lorck.
Written by Anine Netland Hulløen